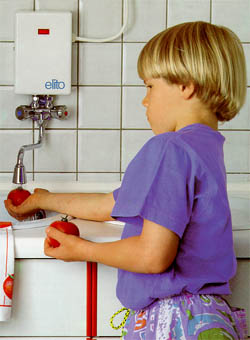 The elito instantaneous water heater helps you save water and power while lowering
your costs. With your elito, you have a small unit, capable of great performance.
Itīs advantages are sure to convince you:

no heating-up time; a mixing battery for cold an hot water; complete interchange of
energy into water heat; low purchase price; low operating costs; no calcification;
well-desingned models; easy assembly .....
Dimensions: 190 x 130 x 65 (H x W x D )
| | | | |
| --- | --- | --- | --- |
| Models | Power / Voltage | Water capacity | Best.Nr. |
| MB/2 | 2,5 KW / 230 V | ca. 1,5 l/min. | 2125 |
| MB/2 | 3,5 KW / 230 V | ca. 2,0 l/min | 2135 |
| MB/2 | 6,0 KW / 230 V | ca. 3,4 l/min | 2160 |